All-On-4 Implants in Brandon, FL
Do you have dentures that do not fit? Can you eat with your dentures?
Teeth In A Day can create teeth that are secure!
---
Are many of your teeth broken?
They can also replace broken teeth and give you back your smile!
---
Do you have loose teeth due to gum disease?
Teeth In A Day can give you teeth that allow you to eat whatever you want!
Call Todayfor an appontment to see if you are andidate for Teeth In A Day.

The Modern Solution for All Missing Teeth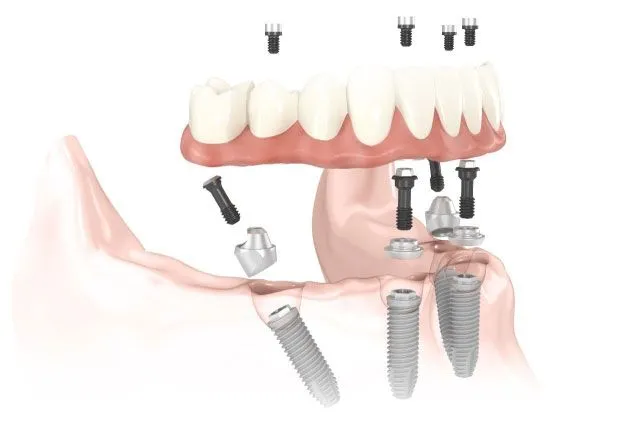 If you have lost all your teeth, unsecured, traditional dentures are a solution which in many cases has limited success. At times painful, inconvenient and unstable, such dentures can bake chewing foods difficult, which could stop you from eating many of the foods you once enjoyed. However, modern dentistry has solutions to suit a variety of needs.
An Efficient Treatment Option
Typically, your dentist can place temporary provisional teeth on the same day after treatment. These provisional teeth look and feel much like natural teeth, and you can lead a normal life immediately after surgery. After a few weeks of healing time, your dentist will place your final bridge. Your quality of life is improved, and you can start enjoying your favorite foods again.
Dental Implants Offer You Many Advantages
A cost effective solution. Your new replacement teeth require only four implants for each jaw. With fewer implants required, the cost is lowered.
Reduced need for bone grafting. The special tilting of two of the implants ensures a secure and stable anchorage for the replaced arch, typically making bone grafting unnecessary.
Faster treatment and healing time. Your replacement arch can be attached to your implants immediately after insertion. There is no need to wait for healing time between surgery and tooth replacement.
For More Information On All-On-4 Dental Implants, Call Stafford Dentistry In Brandon, FL At (813) 655-9900 Today!